Peachland Dental in the Okanagan Valley, we leverage technology to help us provide patients with dental care, including dental lasers, intraoral scanners, digital x-rays and more." />
At Peachland Dental in the Okanagan Valley, we leverage technology to help us provide patients with dental care, including dental lasers, intraoral scanners, digital x-rays and more.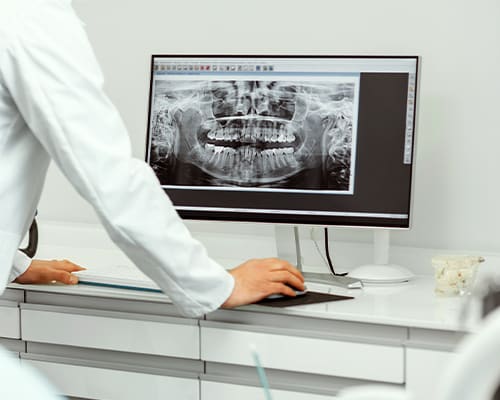 Technologies at Our Dental Clinic
At Peachland Dental, our dental team is committed to making your appointments as efficient and comfortable as possible. That's why we use technology to help inform treatment planning. 
We can display digital scans and x-rays on monitors in our treatment rooms, show you any issues in your mouth and guide you through each step of your treatment plan. 
Our goal is to provide you with efficient dental care focused on your needs and to help you be fully informed regarding your oral health. Dental technology assists us in fulfilling this mission. 
Digital X-Rays
Instead of traditional photographic x-ray film, digital x-rays use digital sensors to produce highly detailed computer images of your teeth and gums, in addition to other oral structures and conditions. This helps your dentist examine parts of the mouth that can't be seen at a casual glance.



Panoramic X-Rays
With panoramic x-rays, your dentist creates a single image of your entire mouth. These are often used to assist in treatment planning for braces, extractions, implants and dentures. The image is a flat representation of the teeth, temporomandibular joints (TMJ), upper and lower jaws, and the nasal and sinus structures. 


Dental Lasers
Lasers are extremely focused light beams that can be used in several different soft and hard tissue procedures. Using lasers, our dentists could perform dental procedures with less pain and fewer medical interventions for patients.
At Peachland Dental, lasers are used to reshape gums, whiten teeth, remove overgrown or decayed tissue, or to harden dental restorations quickly. 
iTero 3D Scanner
With the  iTero® intraoral scanner, we capture 3D impressions of your bite. This helps us store data digitally, create Invisalign clear aligners and dental restorations, and plan treatments in real-time. 
Your dentist simply takes a digital image of your teeth within minutes using an optical scanning wand. The device helps your dentist capture accurate data, so digital replicas of the hard and soft tissues of your mouth can be created. 
Oral Cancer Screening Device
With the VELscope® oral cancer screening device, your dentist can help identify potential diseases and abnormalities in your mouth, such as cancerous and pre-cancerous lesions.
The cancer screening can be performed in your dentist's office using fluorescence visualization technology in about two minutes. This test can be completed during routine exams under normal lighting conditions. 
Cone Beam Cat Scan
Cone beam computed tomography (CBCT) is a type of x-ray machine that produces 3D images of soft tissues, nerve baths, bone and dental structures in the craniofacial region, all within a single scan.
The images we capture with CBCT allow for more precise treatment planning, such as analyzing your airway to appropriately treat snoring and sleep apnea symptoms.


Our Commitment to a Greener Future
We are committed to 'greening' our office for the good of our community - and our future. These technologies help us reduce pollution and waste, while saving energy and water.
Full Digital Records have drastically reduced the amount of paper waste we produce. 
Digital X-Ray Technology eliminates the need for processing chemicals, reducing pollution. 
Digital Impressions can save everyone time, money, and energy.
LED Lighting is installed in our waiting rooms to help us create a warmer, more environmentally friendly space.
New Patients Always Welcome
Looking for a dentist in the Okanagan Valley? We're happily accepting new patients at our dental clinic! Contact us to get started.